ArchBishop ROSARY presents MESSIANIC BIBLE TEACHING , when #IsraelIsUnderFire
Damage in Israel caused by a Hamas rocket
"Our ministry workers have had to rush to the bomb shelters as the Sirens continue to go off as Hamas rockets are fired into our communities," said Ari.
"Behold, He that keepeth Israel shall neither slumber nor sleep." (Psalm 121:4)
Widespread terror continues to grip the Holy Land, and many Israelis are now living in their safe rooms as
Hamas
bombing shows no signs of stopping. The situation is harrowing as Code Red sirens constantly blast their warnings across Israel, including in Jerusalem, the Jordan Valley, and Judea.
Many Israelis—mothers carrying infants, the elderly, people driving to work, children playing—simply do not have enough time to make it to the bomb shelters and safe rooms.
An Israeli bride and family member caught out in the open during the wedding take cover during Hamas rocket fire.
Despite Israel's efforts to end the rockets and growing pressure from the world community for a ceasefire, Hamas rocket attacks from Gaza are continuing to pound Israel.
As well, Hamas is waging psychological warfare by threatening Israelis through Hebrew videos on their
Al-Aqsa television
station that state there will be a proliferation of suicide attacks within Israel proper.
"Zionists, wait and see stabbing attacks everywhere. Wait for suicide attacks on every bus, café and street.
Wait for the rage and for revenge for Gaza, wait for the flames of the
West Bank
and inside you [Israel]," a broadcast threatened.
(JPost)
"Zionists, [we] can reach you above ground and below it. So start counting the number of coffins you'll need in these months," a voice warns in Hebrew.
Hamas' text messages and YouTube propaganda threaten more powerful rockets.
"Zionists, the resistance has many goals. It has the ability to reach places you thought were safe. Look, they [the rockets] are on their way to you now and will reach you soon," one
YouTube video
warns.
Another video also threatens Israeli settlements in Judea and Samaria (the West Bank) saying that they are not out of range.
As many as 5 million of Israel's 8 million are at risk from Hamas rockets.
Baruch HaShem (Praise the Name), God continues to protect Israelis. Israel's "Iron Dome" anti-missile defense system is bringing down the most dangerous rockets. Most have been falling harmlessly in unoccupied areas, although there has been damage to homes and businesses, with some people being injured.
Over 1,236 rockets have been fired at Israel since the beginning of Operation Protective Edge, and the Iron Dome has intercepted 213. (IDF)
Among the injured in Israel is a 17-year-old man who sustained critical injuries on Sunday from shrapnel during a rocket attack in the port city of Ashkelon north of the
Gaza Strip
. Although he tried to protect himself, he found himself in open terrain and did not have enough time to reach a bomb shelter.
On Monday, a 7-year-old boy was injured by flying shrapnel when a missile exploded in a yard in Ashdod. A nearby car was set ablaze by the same explosion. An 81-year-old man in Beersheva was also injured. As well, in Omer, in southern Israel, two sisters, aged 11 and 13, were moderately and seriously injured by shrapnel from a rocket fired toward Beersheva.
Yesterday, Israel saw its first fatality. A 37-year-old civilian volunteer was killed by a fragment of a mortar while distributing food to soldiers at
Erez crossing
,
and the funeral is in a couple of hours.
The Palestinians, however, have sustained many more injuries, with as many as 190 killed. (Times of Israel)
When Hamas launches a bomb into Israel, Israelis have a very short amount of time to find a bomb shelter, depending upon where they live.
On Thursday, Israeli President Shimon Peres stressed that Hamas is deliberately placing Palestinian civilians at risk by firing missiles from civilian areas. He also emphasized that Israel has no interest in harming Palestinians civilians, but must protect Israelis from Hamas missiles.
"Israel underwent another night in which millions of our citizens were under the threat of rocket fire. It is a few nights now that mothers, with children in their arms, can't sleep because of the fear of another siren. We will protect our children and will not allow anyone to harm them. We must say clearly that the State of Israel won't rely on luck; we are prepared and ready for any scenario in order to protect our civilians. We are a united front in the face of this danger; we will not consent to being victims," he stated.
"We do not wish to see innocent people killed or injured, but it is Hamas who endangers the citizens of Gaza by firing from deep within civilian areas." (mfa)
As Israel continues to take out houses being used by Hamas as command and control centers for rocket attacks, launching sites, and weapons stockpiles, in Gaza, the IDF maintains its policy of minimizing the number of civilian casualties.
An IDF info graphic that illustrates Hamas' complete disregard for civilians. While Israel protects Israeli civilians and warns Gazans of incoming rockets, Hamas sends them directly into the line of fire as human shields.
To protect Palestinian civilians, the Israeli military routinely contacts by phone the homes and buildings that protect terrorists, warning the residents to leave. Often the occupants are told to return to the homes or are replaced by neighbors who re-enter the building to form a human shield.
This policy sanctioned by the Hamas Ministry of Interior is designed to position Israel as the aggressor on the international scene as the casualties rise among Palestinians.
The use of human shields, which is a war crime, underscores what Prime Minister Benjamin Netanyahu has been telling the world—that Israel honors life while the Palestinians honor death.
Israel not only warns the Palestinians before attacking, but as the fighting goes on, Israel continues to allow truckloads of necessary foodstuffs and other humanitarian products to enter the Strip, even supplying the Gaza population with fuel and electricity on a daily basis.
Furthermore, on Sunday, Hamas rockets left 70,000 Gazans from their south-central cities of Khan Younis and Deir el-Balah in the dark when one hit the Israeli power line that supplies them with electricity. Hamas rockets have also struck the Palestinian controlled cities of Bethlehem and Hebron in the West Bank.
Wallah Omar, a Gaza toddler who underwent emergency surgery at
Israel's Rambam Hospital for a massive tumor that was pressing on her
brain, sits on her father's lap as she talks to her Israeli doctor.
(YouTube capture)
Israel desperately needs you to stand with her, Uwe. Please continue to pray for the safety of those living in the areas that are under attack, that the unguided missiles will continue to land in open fields, and that all people will come to know the true Redeemer and Guardian of Israel.
"Pray for the peace of Jerusalem: 'May those who love you be secure.'" (Psalm 122:6)
Israeli Doctors Treat Gaza Patients as War Rages
"But I tell you, do not resist an evil person. If anyone slaps you on the right cheek, turn to them the other cheek also." (Matthew 5:39)
Despite the current war between the Gaza Strip and Israel, Israel is continuing to welcome sick Palestinians for treatment.
Although Rambam Hospital treats hundreds of Palestinians year round, including as many as 650 children and teens, Yazid Falah, who serves as coordinator for the Palestinian patients, said that the fighting has caused some of the patients to "fear that they wouldn't be well received."
"We calmed them down and explained to them that there was no danger for them to be at an Israeli hospital. Here [at Rambam] we see humans; we don't see sides. At the end of the day, everyone is in the same boat," said Falah. (i24news)
Rambam Hospital is situated in Haifa, a city that Hamas is targeting with long-range rockets.
Despite incessant missile fire from the Gaza Strip, Israel's Rambam Hospital in Haifa continues to treat Palestinian patients.
Many of the 20 current Palestinian patients, including 8 children from Gaza, are being treated for diseases such as cancer and kidney ailments. They are in Israel because they are not able to get adequate care where they live. Some have been hospitalized for some time. (JPost)
Falah reports that some Palestinian patients are ashamed of what the terrorists have been doing and are even afraid to return to Gaza knowing that they can receive punishment for being treated at an Israeli hospital.
Falah said the Palestinian patients face a real dilemma.
"On the one hand, they find themselves in Israel and see the consequences of Hamas' activities, and how people are being hurt on this side of the border as well. On the other hand, their families are in Gaza, and they fear for the lives of their loved ones," he said.
He added that they prefer to stay in Israel and fear going back to Gaza where they may find their homes and cities in ruins.
Tragically, while Israeli doctors are volunteering their time and talents to save the lives of Palestinian children, their leaders are deliberately putting them in harm's way.
The ReWalk robotic exoskeleton is giving mobility to men and women
paralyzed by lower limb disabilities.
ReWalk Takes Leap Forward with FDA Approval
"There he found a man named Aeneas, who was paralyzed and had been bedridden for eight years. 'Aeneas,' Peter said to him, 'Messiah Yeshua heals you. Get up and roll up your mat.' Immediately Aeneas got up." (Acts 9:33–34)
Israel is continuing to fulfill God's prophetic promises that it would be a blessing to the world. An Israeli marvel of technology and science is poised to change the lives of millions around the world who are confined to wheelchairs.
While not a supernatural miracle of healing, the ReWalk Personal Exoskeleton System does feel like a miracle for the many men and women paralyzed with lower limb disabilities who can now stand up and walk because of it.
The device was developed by Dr. Amit Goffer, an Israeli inventor who became quadriplegic after an ATV accident in 1997.
ReWalk's 44-lb contraption includes a wrist-mounted controller; a backpack with computer and lithium batteries; a fitted metal brace to secure some of the upper body and the legs; and motors triggered by forward leaning that direct the hips, knees and ankles. (Medical Device and Diagnostic Industry Online)
The United States Food and Drug Administration approved the device for personal use on June 26, bringing this wearable, robotic exoskeleton to U.S. markets.
"This revolutionary product will have an immediate, life-changing impact on individuals with spinal cord injuries," said Argo Medical Technologies CEO Larry Jasinski. "This is truly the beginning of 'ReWalking' as a daily reality in the U.S." (Tech Cocktail)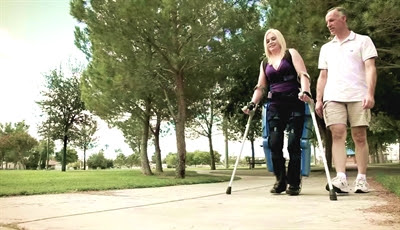 A paralyzed woman walks with the help of ReWalk.
ReWalk has already had an impact on U.S. military purple-heart recipients who returned home from war with heroic legacies—and the lifelong trial of lower-body paralysis. They are not bound to a chair any longer.
Retired U.S. Army Sergeant Theresa Hannigan claimed the first ReWalk used in the States beyond the confines of U.S. hospitals or clinics, with the Department of Veterans Affairs committing to cover the $69,500 cost of the device. (Engadget)
"There are so many things that I have missed by sitting in the wheelchair," said Hannigan, who was knocked off her feet by an autoimmune disease. "The biggest thing … would be giving me back my independence." (CBS)
Marine Corps Captain Derek Herrera, who was injured with a Taliban bullet two years ago in Afghanistan, will be among the first Americans to own a ReWalk.
He said he saw in ReWalk "hope for the future."
"Mentally and emotionally it's been inspiring and incredible," said Herrera who also has seen the financial support of the MARSOC Foundation, which specifically aids members of the Marine Corps Special Operations Command. (Boston Globe)
"It will be incredible for me to regain independence, to use the system to walk and stand on my own," he said.
The benefits of the ReWalk device go beyond standing and walking. It also helps patients in the fight against heart disease, diabetes, and obesity, which result from a sedentary lifestyle, and will help prevent ulcers that come with continual sitting in a wheelchair.
"…strengthen your feeble arms and weak knees. 'Make level paths for your feet,' so that the lame may not be disabled, but rather healed." (Hebrews 12:12–13)
Mohammed Abu Khdair
Three Israelis Confess to Murder of Abu Khdair
"You have heard that it was said to the people long ago, 'You shall not murder, and anyone who murders will be subject to judgment.' But I tell you that anyone who is angry with a brother or sister will be subject to judgment." (Matthew 5:21–22)
Israel has charged three Jewish men with the kidnapping and killing of 16-year-old Mohammed Abu Khdair, a Palestinian teenager whose death set off days of violent protests in Arab areas of Jerusalem and northern Israel.
Khdair was taken on July 2 near his home in east Jerusalem. Israeli police moved quickly and his charred body was found several hours later in a forest.
A 30-year-old man and two 17-year-old males, who admitted to abducting and setting Khdair on fire, appeared in Petah Tikva Magistrate's Court Monday.
Police believe the abduction was motivated by revenge for the kidnapping and killing of three Jewish Israeli teenagers, Eyal Yifrach, Gilad Shaar and Naftali Frenkel, who were buried the day before Khdair's murder.
The FBI (who was involved because Frenkel held dual American/Israeli citizenship) concluded the teens were shot 10 times on June 12 before they were buried in a shallow grave in the Hebron area.
Naftali Frenkel, Gilad Shaar, Eyal Yifrach were laid to rest on July 1, 2014.
Last week, Israel Prime Minister Benjamin Netanyahu sternly condemned Abu Khdair's abductors and murderers, pledging on July 6, "We will find those behind this horrific crime and bring them to justice. There is no place for such murders in our society." (YNet)
Netanyahu added, "That's the difference between us and our neighbors. They consider murderers to be heroes. They name public squares after them. We don't. We condemn them, and we put them on trial and we'll put them in prison. … We do not differentiate between the terrorists, and we will respond to all of them, wherever they come from, with a firm hand."
Israel responded to the slaying of Khdair with repulsion and righteous anger, reaching out to the Khdair family with sympathy.
Last Monday (July 7), President Shimon Peres expressed his condolences to the father of Mohammed Abu Khdair, Hussein Abu Khdair.
"I know what you and your family are going through. I am full of shame and share in your grief. He was murdered by criminals. I am ashamed on behalf of my nation and grieve with you. The only thing left for all of us to do is to ensure that no more children are murdered, and no more tears are shed by mothers," Peres told him.
Hussein Abu Khdair told Peres that he "seeks true justice in the court."
Peres reassured him, saying, "Justice will be done and we will not compromise on that. We all reject murderers and like you I want justice, true justice. There is nothing that saddens us more than the tears of a mother and the grief of a father. Sadly there is no comfort for a grieving mother, but there will be no compassion for the murderers. The murderers must be punished and the murder uprooted from its source. We must replace the mourner's tent with a tabernacle of peace."
Nevertheless, the family refused to receive a visit by Peres.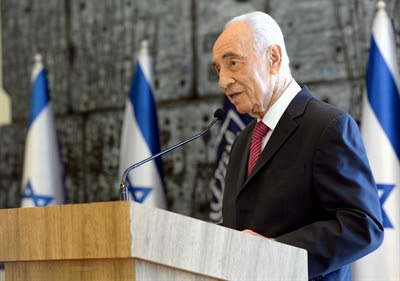 Israeli President Shimon Peres
Israeli Prime Minister Benjamin Netanyahu also spoke with the family by phone, saying, "I want to express my shock, and the shock of all Israeli citizens, at the heinous murder of your son."
"We acted immediately afterward to locate the murderers, and they will be brought to justice," he added. "We reject all cruel behavior, and the murder of your son is heinous and cannot be accepted by any human being."
As well, Tag Meir (Spreading the Light), a grassroots group that battles racism and hate crimes by Jews, chartered several buses to bring people from Jerusalem and Tel Aviv to visit the mourners. (Times of Israel)
"I came to protest and declare that this is not the way my religion goes," said Rabbi Yossi Slotnik, from Israel's north. Slotnik described the murder as a desecration of God's name. "I think we should say it out loud: This isn't what we expect and what we want to happen. We're looking for a different type of coexistence."
Over 350 Israelis made their way to a mourning tent in Jerusalem on Tuesday to pay their condolences to the family of Mohammad Abu Khdair, a Palestinian teenager who was abducted and brutally murdered last week. Tag Meir, a coalition of 40 organizations including the Interreligious Coordinating Council of Israel (ICCI), organized the visit.
The Shin Bet security service brought six suspects into custody less than a week into the murder investigation.
Last week, three of the suspects were released when it was determined that they were not involved in the killing. They are allegedly part of the cell that was responsible for it, however. Their attorneys complained that they had been held for days without being allowed to see a lawyer, saying there was no evidence linking them to the murder. (HaAretz)
The father of one of the teen suspects said his son and at least one other teen in the group of six are mentally ill. (Israel HaYom)
There have also been reports that the 30-year-old, who has been characterized as the dominant character in the group, was mentally ill, as well.
On Monday, it was reported that he once attempted to strangle his infant daughter, but was prevented when his wife walked in during the attempt. This seems to indicate that the three will pursue a defense strategy based on an insanity plea. (Times of Israel)
"When the sentence for a crime is not quickly carried out, people's hearts are filled with schemes to do wrong." (Ecclesiastes 8:11)
NBA Star Dikembe Mutombo
NBA Star Joins Israeli Innovators to Power Africa
"From the rising of the sun to the place where it sets, the name of the Lord is to be praised. The Lord is exalted over all the nations, His glory above the heavens." (Psalm 113:3–4)
The Israel-based non-profit Innovation: Africa, aided by nine basketball greats, is empowering Kinshasa, the hometown of NBA legend Dikembe Mutombo.
The group was in the Democratic Republic of Congo (DRC) last week to bring solar technology to Mutombo's hometown.
About 90 percent of the people in the DRC live without electricity, compromising many areas of life, including global connectedness and economic opportunities on the one hand, and community infrastructure and important health options on the other.
School children cross at a busy intersection in Kinshasa, the capital and the largest city of the Democratic Republic of the Congo.
Some critical issues that affect communities off the grid include limited access to clean water, mortality issues affecting newborns, and education, since people are confined to studying during daylight hours or face using precious fuel reserves for a kerosene lanterns.
This week, the hoop-loving delegation and Innovation: Africa personnel visited Mutombo's hometown, Kinshasa, to participate in installing solar-based renewable electricity at the Biamba Marie Mutombo Hospital.
Because of the solar units, the hospital will be able to refrigerate medicines and provide nighttime lighting for surgeons. (Times of Israel)
"We knew the need was great, but we also knew we'd need a lot of help to launch operations there," said Innovation: Africa's founder and president, Sivan Ya'ari. "Dikembe and his foundation were our ideal partners. They've been doing great work in the country for years. … Plus, we're huge fans of Dikembe both on and off the court, so it's exciting for our team and supporters to work with someone we so admire."
Sivan Ya'ari, the founder of Innovation: Africa (YouTube capture)
Ya'ari told The African Sun Times that Dikembe's group helped to focus the innovators on top priority projects in the area and to build a network of DRC partners and contractors that will need to be involved in maintaining the solar projects over the long term.
The July 8–11 trip also resulted in installations of Israeli solar technology at Georgette's Orphanage, which houses 150 children; a 740-student school; and a medical clinic outside Kinshasa that serves 11,000 people. (African Sun Times)
"With similar climates and natural resources, Israeli solar, water and agricultural technologies are a natural fit for African villages," Ya'ari said. "Our mission is to share the knowledge and expertise developed in Israel with people and communities that need it." (Blog: Size Doesn't Matter)
An Israeli solar trough in the Negev Desert.
Empowering these communities through self-supporting solar technology might also enable residents and service providers to exist off the national electricity grids that do exist, providing greater autonomy and financial opportunity for African villages hooked up to the sun.
This Innovation: Africa project will bring its total number of solar installations and agricultural projects in DRC, Uganda, Malawi, Ethiopia, Tanzania and South Africa to 80, impacting 677,880 people. (The Africa Sun Times)
"Neither do people light a lamp and put it under a bowl. Instead they put it on its stand, and it gives light to everyone in the house. In the same way, let your light shine before others, that they may see your good deeds and glorify your Father in heaven." (Matthew 5:15–16)
The situation is dire here in Israel, Uwe. When Hamas missiles launch at midnight, mothers have seconds to get their sleeping children into the safe room. No other nation on earth would tolerate being placed in such a position, and yet so many international leaders are insisting that Israel show restraint in defending herself, which she actually has done.
At such a time as this, your continued support of Israel and the Jewish People is really making a difference!
Please stand with us in these last days as we bring the Good News of Yeshua HaMashiach (Jesus the Messiah) to the Jewish People here in Israel and around the world, as well as to the nations.
"You who bring good news to Zion, go up on a high mountain. You who bring good news to Jerusalem, lift up your voice with a shout, lift it up, do not be afraid; say to the towns of Judah, 'Here is your God!'" (Isaiah 40:9)
"Comfort, comfort My people, says your God. Speak tenderly to Jerusalem, and proclaim to her that her hard service has been completed, that her sin has been paid for, that she has received from the Lord's hand double for all her sins." (Isaiah 40:1–2)
Related articles
Published: July 16, 2014, 13:17 | Comments Off on ArchBishop ROSARY presents MESSIANIC BIBLE TEACHING , when #IsraelIsUnderFire
Category: Uncategorized